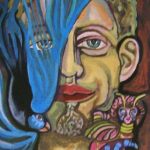 Kathleen is dark and mysterious, yet the brilliance of her authenticity could light up a small city. Being in her presence allowed me to scrape the depth of my shadow and I knew that she could hold space for anything that I was able to conjure up, that and more, as long as I stood in my truth… Can you hear the birds calling, the wolves howling with laughter? that's where she is.

Kathleen has a way of hosting darkness that allows one to see the rich tapestry of potentials carried within our suffering. Kathleen's teaching is full-bodied. She makes direct contact with your material and artfully hosts it, drawing it out, and allowing it to express itself. The unconscious material comes up, and she assists you to express it in whatever form it is wanting to be expressed: movement, painting, nature-play… Like a tea-leaf reader, she looks at your expressions and gleans the jewels within… Slowly we become more at home with ourselves: our longing, our fear, our dreams. Instead of shying away from who we are, we come to embrace ourselves, finding our way to true self-expression.
Kathleen, juicy, ragingly powerful darkness itself, but not only…. it is the blood that drips from your fangs of authenticity, the love that rages from your heart, the ruthless ripping away and raw exposure of anything that hints at less than truth for you, that draws me, like a moth to a flame.
– Lisa Buell  
The sacred events that I have participated in with you (whether at your house or in Joshua Tree or on our beautiful coast) have shown me that you have the connection, the will, and the love to "produce" meaningful group work. You are attuned to psyche and she repays your faith and passion with a deepening insight and a nurture we all partake of. I have expanded my capacity for witnessing and containing as a direct result of your individual example. I have further integrated the multiple potentials that art writing movement and ritual can offer individuals and groups as a direct result of your passionate influence.  In short, you have a natural (yet experienced and well-read) calling for this  work. 
– Colette Nower